Tim Tebow elected to the College Football Hall of Fame: 'It's humbling'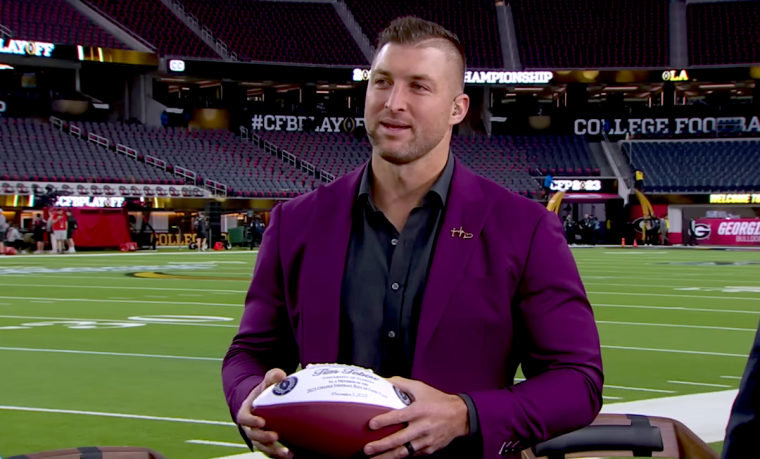 Former Heisman Trophy winner and outspoken Chrisitan Tim Tebow has been elected to the College Football Hall of Fame, according to an announcement from the National Football Foundation.
Now serving as an analyst for ESPN, the former University of Florida standout and son of missionaries said Monday night during the network's coverage of the College Football Playoff National Championship that he is "shocked" to hear the news. 
"Thank you. Honestly, it's just so humbling. There's so many people that are a part of this, … all the coaches, my teammates. This is a humbling award," the two-time national champion said after the news of his accomplishment was announced.
"But, this goes to all of my teammates that I got the chance to play with. It's humbling." 
Tebow is now the 13th person from the University of Florida to be elected to the College Football Hall of Fame, as recognized by a FloridaGators.com outline of the athlete's accomplishments. 
In 2007, Tebow won the Heisman Trophy and was a Heisman finalist in 2008 and 2009. 
During Tebow's time in Gainesville, Florida, the Gators had a record of 48-7 and became the first FBS team to record back-to-back 13-win seasons in 2008 and 2009.
He was the second player in college football history to repeat as the Maxwell Award winner in 2007 and 2008, which is given to whoever is voted to be the best all-around player in the United States. He also received the 2007 Davey O'Brien Award.
Tebow led Florida to two BCS National Championships, earning MVP honors following the 2009 title game. He also set five NCAA records, helping the Gators rank in the top three in the final AP polls in three of his four years, according to Heisman.com. The Gators appeared in four consecutive bowl games during Tebow's tenure.
Tebow was added to the Florida Football Ring of Honor in 2018 and inducted into the University of Florida Hall of Fame in 2020. 
Drafted in the first round of the 2010 NFL Draft by Denver, Tebow is known for having helped the Broncos to a playoff win during the 2011 season. He also played for the Jets in 2012. After his football career, he played minor league baseball for the New York Mets organization from 2016-2021. He attempted to return to the NFL in 2021, unsuccessfully trying out for the Jacksonville Jaguars as a tight end. 
Filled with emotion, Tebow said on ESPN that he would have wanted his granddad to see his successes. 
"My granddad dreamed of getting the chance to see Florida win in that CC Championship. And he died before that happened," Tebow said tearfully. 
"So, when we were playing, we were playing for something a lot bigger than just winning or losing a game — something that's a lot bigger. We were playing for family and for relationships and for loved ones." 
Steve Hatchell, the president of the National Football Foundation, had well wishes for Tebow, as he met him live on ESPN following the announcement of his achievement.  
"On behalf of our chairman and board of directors, congratulations. You're a hall of famer, buddy," Hatchell told Tebow with a wide grin.  
Tebow resides in Jacksonville, Florida. He is a philanthropist, Christian motivational speaker, author, film producer and broadcaster with ESPN and SEC Network. 
His charity foundation, Tim Tebow Foundation, focuses on special needs ministries, orphan care and prevention, children with profound medical needs and anti-human trafficking efforts.
Born in the Philippines to missionaries, Tebow has long been open about his faith. He gained the attention of many Christians in the U.S. by wearing eye black that featured Bible verses.
Tebow often travels to various locations to speak at Christian conferences and events. He has voiced his strong pro-life views at the March for Life in Washington, D.C.
One of his latest speeches was at the Passion 2023 Christian conference in Atlanta this month, in which he admitted that his passion for football was seemingly greater than his passion for Jesus throughout much of his life. 
Tebow urged audience members never to forget their Creator, even if they have things that they are more passionate about than Jesus. 
"We get to be part of the greatest rescue mission in the history of the world because of what Jesus did on the cross, and He has commanded us to take it to the world," Tebow preached last week. 
"But do we have any urgency? Why do we need to run? Because we're not living on our timeline. We're living on theirs. … How many people did I not get to because I'm apathetic [or] I don't really care, or I was just more passionate about doing something else?"
Tebow challenged listeners to carry the fire God ignited inside them into the world. 
"I'm going to challenge us to remember, what does it mean to remember, to look back at the cross and meditate on it?" the football star said. 
"Why do we need to keep going back to the Word of God, to the cross? Because we have to remember how good He is. When we face the hard times, when we face frustration, where we face disappointment, we've got to remember the cross; we've got to remember how good He is.
The 2023 College Football Hall of Fame Class will be inducted at the 65th NFF Annual Awards Dinner Presented on Dec. 5, 2023, at the ARIA Resort & Casino Las Vegas.