Activist group pressures military base to remove Christian bookstore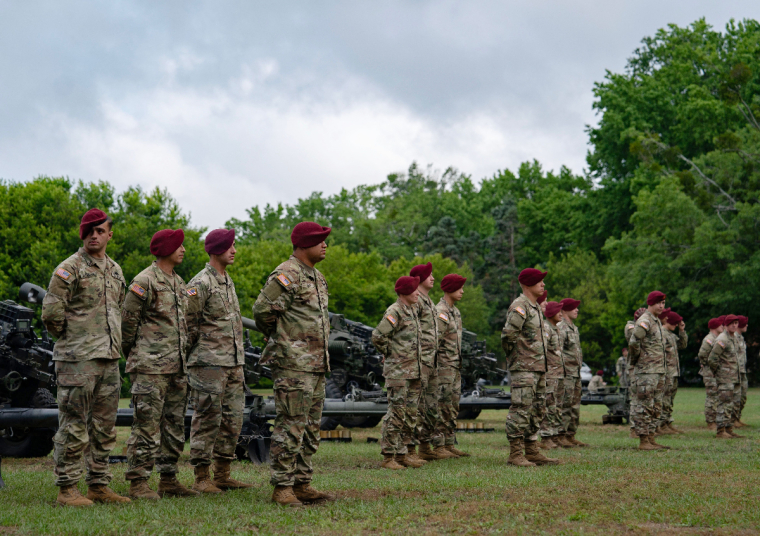 A secular legal group has threatened a military base with the possibility of a federal lawsuit if it doesn't remove a Christian bookstore, arguing that its existence on the base is a violation of the First Amendment. 
Faith2Soar is a Christian bookstore owned by veteran Josh Creson and his family. One of the store's locations is in Spring Lake, North Carolina, and last September, Creson opened another at a mini-mall on Fort Liberty, a North Carolina military base.
Mikey Weinstein, founder and president of the Military and Religious Freedom Foundation nonprofit, contends that it violates the Establishment Clause of the First Amendment of the U.S. Constitution for the military to allow a Christian store to operate on the base.
He wrote a letter last month to Lt. General Christopher T. Donahue, commanding general XVIII Airborne Corps and Fort Liberty, objecting to what he asserted was an endorsement of "fundamentalist Christianity." 
Weinstein told The Christian Post that he wouldn't have a problem with a faith-themed store operating at a local mall but allowing the store on a military base raises concerns about the government establishing a religion in violation of the Constitution.
According to Weinstein, his organization represents 211 U.S. Army personnel, including 165 Christians, who have complained about the store. The civil rights activist alleged that the military personnel came to MRFF due to concerns about retribution from the chain of command.
"We don't blame the store," Weinstein told CP, adding that he was sure the owner was a "nice guy." 
"We blame the Army; we blame the Army and Air Force Exchange Service," he continued. "How dare they sit there and say, 'Well, we would let others do it, but they have to show this consumer demand,' so that means they have to show there are enough atheists, Muslims, Jews, Native Americans, Indians, Buddhists, to make it worthwhile." 
AAFES operates various businesses at U.S. Army and Air Force installations worldwide, including department stores. For Weinstein, it is not enough for AAFES to allow the Christian store to operate based on the understanding that it would grant the same rights to a store aligned with any other religion. 
"Christians are a majority faith, and that becomes predatory pricing," the MRFF president said. "And that is not what AAFES should be doing as a representative."
In his letter, Weinstein demanded that the installation do whatever is necessary to remove the bookstore from Fort Liberty, declaring his clients reserve the right to "exhaust all administrative remedies" to pursue federal litigation.
In response to an inquiry from CP, an AAES spokesperson told the outlet that there are no plans to close the store.
First Liberty Institute, a legal organization focused on defending religious liberty, began representing Creson following Weinstein's letter. Mike Berry, senior counsel at First Liberty Institute, as well as its vice president of external affairs and director of military affairs, told CP that the organization has not responded to Weinstein's letter. 
The attorney referred to the MRFF founder's claims as "dubious," adding that the allegations merit no other response other than ignoring Weinstein. Berry also stated that, to First Liberty's knowledge, AAFES had not taken any action aside from informing Creson about the letter. 
"Mikey Weinstein lives in a fantasy world in which the law is as he thinks it should be," Berry told CP. "Fortunately for us Americans, the Constitution actually protects the right of patriots like Mr. Creson to operate a business in accordance with his faith. The government cannot forbid a company from operating on base just because it happens to be a faith-based company. That's unlawful discrimination." 
According to Berry, First Liberty is prepared to defend Creson's business if the case goes to court.
In a written response, Weinstein argued that The First Liberty Institute "would not know a First Amendment church-state violation if it bit them in the face."
"The only 'fantasy world' [Berry] and they inhabit would have a dark, unforgiving, unconstitutional Christian theocracy controlling our nation much as the fictional nation 'Gilead' is described in the best selling book and celebrated TV series 'The Handmaid's Tale,'" Weinstein wrote. 
In an interview with CP, Creson said he had not received any negative feedback about the store before Weinstein. Following Weinstein's letter, local AAFES officials met with Creson to investigate the business. However, the store owner said the officials did not find anything they thought would raise concerns.  
The Christian business owner shared his military background, stating that his father was a career paratrooper. Creson said that he grew up on Fort Liberty, which was called Fort Bragg at the time, as his dad was stationed there in 1985. 
Creson was commissioned as an officer in 1998, working as a tank and armor officer before transferring into logistics. In 2003, Creson's division was deployed to Iraq, and after fulfilling his tour, he resigned, saying that he decided to do something different with his life after not seeing his oldest son for years. 
The veteran said he did not embrace Christianity until later in life, explaining that he didn't grow up in a religious household, but he credited his peers in the military with "planting the seeds" by sharing their faith with him. Creson eventually came into the faith after struggling with anxiety, depression and other issues he said are common among military personnel.
Creson said he opened the store on the base to help service members and rekindle his relationship with the military. The business owner told CP that 22% of every dollar the store earns goes to AAFES, adding that he sees it as his mission to help service people emotionally and spiritually. 
"We don't press upon anybody's religious beliefs as they come in," he said. "If a customer decides to openly share that, we'll have those conversations, and it's a blessing." 
"We've had patrons come in and laugh with us and share their stories with us. Maybe their spouse is deployed, or they're going through a difficult situation, or they've lost a loved one." 
"We find that our presence here is not just being a for-profit store, but we're available to help military men and women, especially their families, in any way we can as a for-profit organization," Creson said.