One Million Moms calls Macy's Thanksgiving Day Parade a 'transgender extravaganza'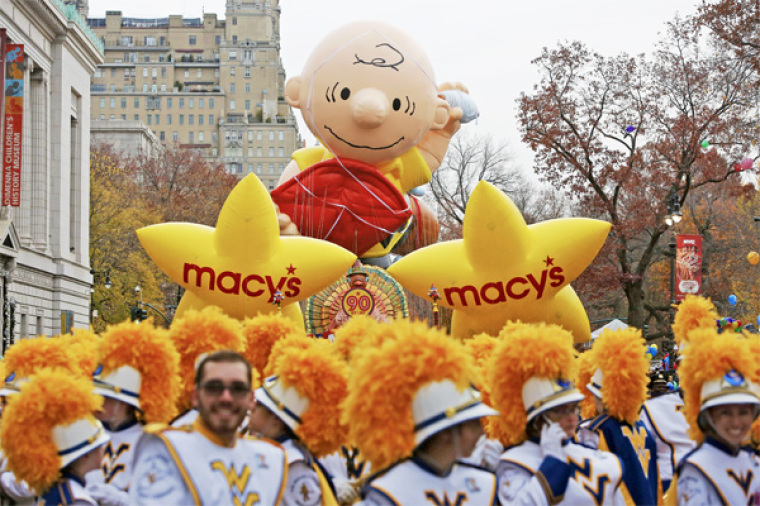 More than 36,000 people have signed an online petition pledging to boycott the Macy's Thanksgiving Day Parade this year, joining a Christian conservative group's campaign against what it calls a "non-binary and transgender extravaganza."
One Million Moms, an activist organization made up of Christian mothers, launched the petition on Nov. 8, warning that the "holiday parade will potentially expose tens of millions of viewers at home to the liberal LGBTQ agenda." As of Friday evening, the petition has accumulated 36,235 signatures. 
The petition notes that the parade is slated to feature performances from the Broadway musicals "& Juliet" and "Shucked," both of which star trans-identified or nonbinary actors.
Justin David Sullivan, who identifies as nonbinary and uses all pronouns, will perform portions from "& Juliet," which reimagines the Shakespeare play Romeo & Juliet if Juliet had not committed suicide over Romeo and "[ditched] her famous ending for a fresh beginning and a second chance at life and love — her way," according to the musical's website.
Sullivan opted out of participating in the Tony Awards earlier this year because of its gendered categories, according to The New York Times.
"I felt I had no choice but to abstain from being considered for a nomination this season," Sullivan said in a statement. "I hope that award shows across the industry will expand their reach to be able to honor and award people of all gender identities."
Performer Alex Newell, a male who identifies as nonbinary, won a Tony Award earlier this year for his performance as female Lulu in the new musical "Shucked," which tells the story of a farm girl named Maizy who has to venture to the city when the corn in her rural town begins to die.
Newell also uses all pronouns and attended the Tony Awards in women's clothing, the petition points out.
One Million Moms blasted the Macy's parade as "liberal nonsense" and noted how trans-identifying pop star Kim Petras made an appearance at the event in 2021.
"Shame on Macy's for promoting and sponsoring this type of entertainment. We still cannot trust Macy's Dept. Store. It is clear that Macy's does not have our children's best interests in mind," the petition said. "Macy's needs to know that trust must be earned, and once trust is lost, it is difficult to get back."
In 2018, the parade featured a lesbian kiss, which detractors condemned as "inappropriate" for a family program.
One Million Moms has previously made headlines for launching campaigns against organizations they claim are pushing objectionable content.
Earlier this year, the group blasted Viacom in a statement for airing scantily clad performers and sexually suggestive choreography on Nickelodeon during the MTV Music Awards.
In 2021, the organization urged the American Girl company to abandon an LGBT storyline connected to its 2021 Girl of the Year doll in addition to requesting that they remain neutral in what they referred to as a "culture war."
One Million Moms went after the doll company again in 2022 for distributing a book that promotes puberty blockers for girls questioning their gender identity. As first reported by The Christian Post, the book titled A Smart Girl's Guide: Body Image advised children to ask their doctors about "medicine" to delay puberty, as well as wearing clothes or using pronouns to resemble the opposite sex.